Earlier this week I shared 25 Christ-Centered Christmas Traditions, and promised to give you more details in case you would like to make any of those traditions your own.  Yesterday we looked at Child-Friendly Nativities; today's topic is Advent Calendars!
When you talk about Advent calendars, you get one of several reactions.  One is, "Huh?!  What's Advent?!"  This is particularly true of my friends with a Southern Baptist background :).  Another is, "Whoa!  I'm not crafty!  I can't make one of those!  Let me off this train right now!"  No worries, no craftiness is required!  A third is, "Advent!  I love Advent!  Wait, when does it start?  How many perfectly-sewn little pockets do I need on my homemade calendar again?  What, it changes?!"
So, you see, a little explanation is in order.
But not very much, because it's really much simpler than it may sound.
Advent is the season in which we prepare for and count down to Christmas.  It reminds us of the waiting period between God's announcement of the Messiah through the prophets, and His actual arrival.  Fortunately for us, it's symbolic and doesn't last hundreds of years.  Advent begins four Sundays before Christmas.  Since the day on which Christmas falls changes, the day on which Advent begins also changes.  Kind of like Mother's Day.
This year, Advent begins on December 1st.  This is very handy, because you will find that many ready-made Advent calendars only have 25 days on them.  For simplicity's sake, they've chosen to always begin on December 1st.  If you would like to join that club and never again google the beginning date of Advent, you are welcome to do so!
One of the most popular ways of marking the season of Advent is through use of an Advent calendar.  The calendar has something to open or mark or do for each day.  Growing up, we didn't have an Advent calendar, but we had a Santa countdown on which we glued cotton balls onto Santa's beard.  Same idea, only with the Advent calendar, you're counting down to Jesus' birthday instead of Santa's arrival.  And trust me, Jesus is way cooler than Santa Claus.  You want your children to feel this way too!
There are thousands of possibilities for Advent calendars.  I'm not going to list them all, but I'll give you a lovely sampling.  Your calendar can be as simple or as detailed as you desire; or as your circumstances dictate.  For those in the all-of-my-children-are-under-3 stage, don't even think about trying for elaborate.  It isn't necessary!  It's just fun for those who don't spend their days developing potty training schemes.
I'll give you Advent calendars you can purchase that are ready to use; Advent calendar kits to buy and put together yourself; slightly-crafty Advent calendar ideas you can make using items you probably already have at home; and finally, extra-crafty Advent calendar ideas to make.
First, for the super-busy family who barely has time to read this post, and is just waiting for something to click on, buy, and get out of here:
[The following calendars are from ChristianBook.com; click on the picture for more details or to purchase.]
14″x11″ poster with 25 windows to open, revealing a Scripture related to the Christmas story each day; $3.99
There are about 50 more options for this style of calendar, all under $5.
11.5″ x 8.25″ poster with 25 windows to open, revealing a Scripture that is part of the Christmas story each day; $3.49
This one is in Spanish; there is at least one other option in Spanish, also under $5.
30″ x 22″ fabric hanging, with a pocket for each day containing a fabric piece to be added to the Nativity scene.  $29.99
8.75″H x 11.25″W x 2.5″ D Wooden Nativity scene, with one small wooden figure to add each day.  Perfect for those without wall space for hanging a calendar. $46.99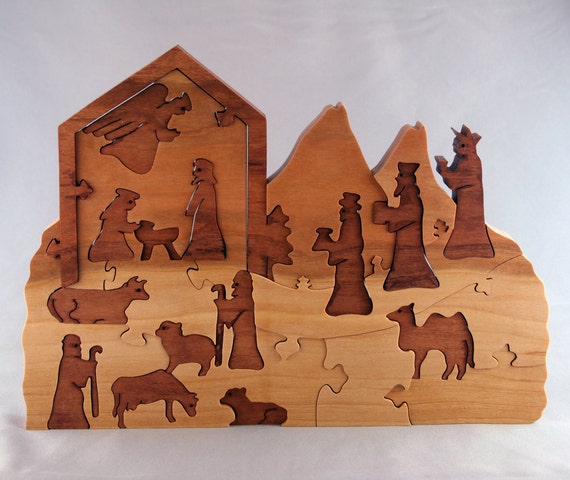 8″ x 11″ interlocking puzzle handmade of cherry wood, with 25 pieces  $80 on Etsy.com
**The following are calendars that you will fill.   Inside each cup or bag for the day you can put a slip of paper with a verse or passage to read that day.  No idea which verses would be best, or how to break up the Christmas story into 25 parts?  I'll be sharing a reading list this weekend!  Some people also put small candies inside the cups for each day.  Others add a little slip of paper with an activity for the day, such as singing a certain song, or baking cookies, or giving a card to the mail carrier.  I'll give you ideas for more of those types of activities, too!  **
Those are some great ready-to-purchase, ready-to-use Advent calendars, right?  If you're still here, though, perhaps you're feeling a LITTLE bit crafty and have a LITTLE bit of time to put your own calendar together, and want to buy some type of kit to get you started.  If so, here are some ideas for you:
If you want to make an Advent calendar that will be virtually free for you and are SLIGHTLY crafty; or if you're feeling REALLY crafty or have a LOT of time, keep scrolling down!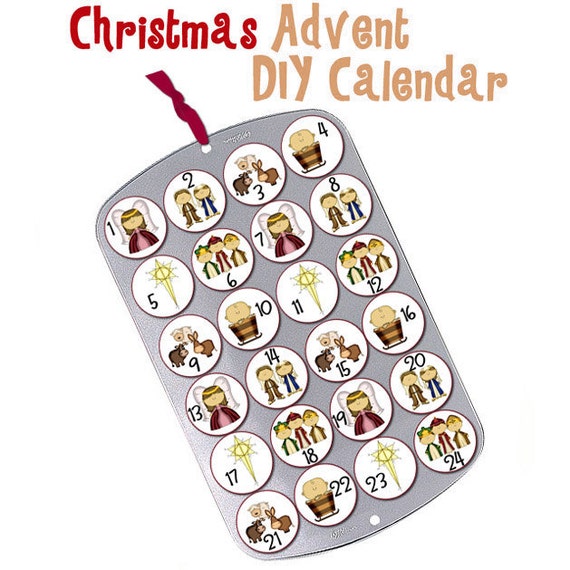 This is a mini-muffin pan (find one at Dollar Tree!).  You print out the instantly available pdf, cut out the circles for each day, stick them to magnetic sheet backing (find it at Wal-Mart or online), and put the magnets on the tin.  Finished!
$4.00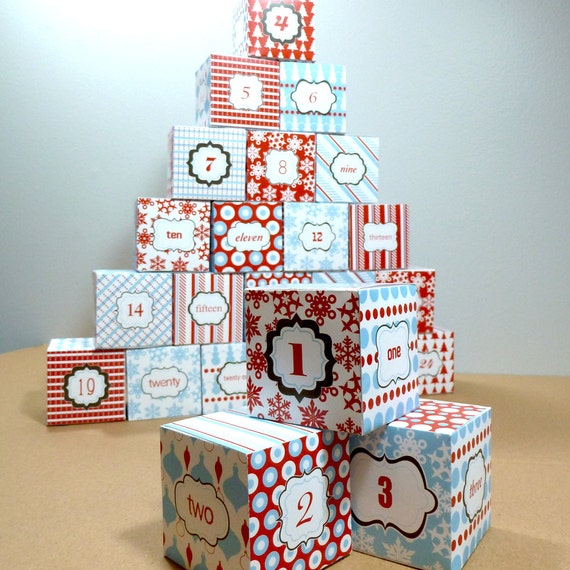 Advent calendar boxes: print, fold, glue, stack!  $5.00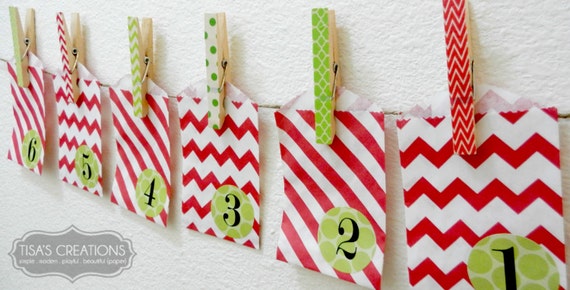 Here's a kit that comes with everything you need, ready to be assembled.  $18.95 (+$3.50 for shipping)
Looking for slightly crafty ideas that cost virtually nothing?  Try these!
Click on the pictures to go to the original source of the idea!
Egg cartons + circles of colored paper with numbers.  Cut the cartons and stack to make a birthday cake for Jesus, or a Christmas Tree; fill the egg cups, and finished!
Roll phone book pages into a cone; fill; fold and tape shut! Write a number on each one, and hang.  These are pinned onto a bulletin board, but you could paperclip them to a string; stick them on the refrigerator; hang them from your garland, etc.!
For those of you with a toilet paper roll collection!  Stuff it, fold it up and tape it, and write a number on it!  Finished!  Then hang them anywhere you'd like, or pile them all in a bowl!
Are you a coffee addict?  Take advantage of it and save those coffee cups!   What, you don't have 25?  Hit up Starbucks now :).  Clean the cups out and wrap with wrapping paper scraps, or scrapbook paper (which even comes in fun Christmas-themed packs!).  Stuff and tie on a bow and write the number or tie on a tag with the number.
Plastic Baggies.  Really, does it get any simpler?  Use some wrapping paper or scrapbook paper to make the little number tags and to write the verses and/or activities you want to include, and pin or tape them to the wall in a Christmas-tree shape.  Instant festivities!
Moving on from plastic baggies to their cousins, paper lunch sacks!  Stuff, add a number, and hang or throw them in a box!  Feeling extra crafty?  Tie them up with pretty ribbon or add a tag made of pretty Christmas paper!  No fancy chalkboard wall required like in this cute example. 🙂
Need another super simple idea?  Envelopes!  Glue 24 (or 25, your preference) to a sheet of poster board or foam core board if you want it to be able to stand up and lean against a wall like this one.  Stuff your envelopes, seal with a fun sticker, number them, and finished!  If you want to add a few other decorations, you can!  Or let the children decorate them further!
And the classic option that never gets old: the Advent paper chain!  This particular tutorial upped the ante a bit with a fabric paper chain, but don't feel you need to do so!  You can put 25 links on the chain to begin with and cut one off each day; or begin with one link and add one each day!  You can write verses/activities on each link, or just read one when you remove or add a link.
Now, for Advent calendars for the slightly more adventurous in crafty escapades!
Click on the picture to go to the tutorial for this cute Christmas Tree Advent calendar.  If you look at it and decide it is WAY too involved, but you love the idea, try this simpler idea: Use green construction paper or scrapbook paper, and fold into a cone shape.  Tape or glue.  The bottom won't be even; trim the paper so the bottom of the cone is even and can stand up.  Don't worry about making a bottom for the trees.  Decorate them further if you'd like.  Write a number on each tree and put them where you're going to display them.  Then stick whatever you're using to stuff them under each tree.  You'll just lift them up to reveal that day's verse, activity, and/or candy!
Click the picture to go to the tutorial.  Here's an alternate version: Find 24 rocks.  Write your verses/activities on the rocks using a sharpie.  Or tape a piece of paper with the verses/activities on the rocks.  Add candy if you'd like.  Wrap with random scraps of fabric.  They don't have to be the same.  They could be pieces of old shirts or pants destined for goodwill.  If you use pinking shears, they'll have that pretty edge like in the photo.  But pinking shears and pretty edges aren't necessary for bringing joy to your family!  Tie your bundles with whatever thread/string/yarn you have.  Instead of messing with printing numbers on fusible web, just write them on the outside of your little tied-up bundles with a Sharpie.  Line them up somewhere, or hang them from tree branches like in the photo.
Click the picture to go to the original tutorial for this craft stick Christmas tree Advent calendar with origami boxes for each day's verses/activities/candy.  If you love the look of this but think it is more involved than you have time for, consider this alternate construction: Use craft sticks or thin dowel rods and wood glue to construct the tree.  Instead of folding all of those adorable boxes, just fold a rectangle of paper and glue the sides to make a small, square envelope.  Write the number on the front and slip in your verses/activities/candy.  Punch a hole in the back side of each little envelope, and tie on to the tree with any ribbon/string/thread you have handy!
Click on the picture to go to the original tutorial.  Here's the short version: Buy this set of favor tins from Wilton; it's currently $19.95 (plus shipping) on their site.  You might find it at your local craft store, too.  Do NOT try to use the label template that comes with that set of tins, though.  It does not work.  Luckily for you, if you follow the link to the original tutorial you'll find a free template to download to get the exact numbers used in the picture.  Cut out the pictures (a 2″ circle punch will make life much easier on that count) and glue to the tops of the tins.  Stick magnets to the back of the favor tins; fill; and stick on a sheet of metal, or a large cookie sheet would work well.  Cookie sheets often have a small hole in one handle, too, which makes them easy to hang!
Alternatively, use ANY small tins or boxes you might have and make a calendar using the same idea.  They don't even have to all match! 
This next idea is not for the faint of heart; nor the short on time!  It is, however, extremely cute, and reusable!  Click on the picture for the original tutorial.  It is in German, but is photo heavy, with all of the measurements you need to make this very village.  Just remember that they're in centimeters, not inches!  Alternatively, use the same idea, but just wing it!  You can always trim if it doesn't turn out quite right the first time. 🙂  How fun would it be to make a little town of Bethlehem with this idea?!
For you sewists, try your hand at this quilted pocket Advent calendar!  Click on the image for the full tutorial.  You'll definitely be able to use this year after year.
This drawstring bag Advent calendar would be a quicker sewn project; and still very reusable!  You could put all of the bags in a bowl or other container instead of hanging them.  Click the picture for the full tutorial.
And one more option for the sewists!  This is a burlap pocket Advent calendar, and is a quick and easy project.  Click the image for the full tutorial.  It doesn't have to be burlap; burlap just happens to be trendy this year :).  Feel free to use whatever backing material you would like!
Hopefully you've found an Advent calendar you'll love this year!  Purchased or homemade, expensive or free, the important thing is that you use it an enjoy it!  It really is a fun way to count down the days until Jesus' birthday!